[et_pb_section bb_built="1″][et_pb_row][et_pb_column type="4_4″][et_pb_text]
It's a warm, quiet night so I thought I'd spend a couple of hours catching up on my blogging. In particular, I thought I'd post a brief update on what's been transpiring in my life as of late.
It's worth nothing that in my personal blog I haven't adopted a particular blogging strategy when it comes to the type of content I opt to publish (such as the ones I advocate in my book.) Rather I aim at writing interesting posts regardless of subject, and offer family, friends, and "followers" a way to keep up with various going-ons in my world.
The big news at the moment is that my wife and I recently moved to the Okanagan Valley in British Columbia (specifically Penticton) from Toronto. It's hard to believe that it's been only two months since we left the hustle and bustle of urban Ontario. We went through so much stress/work/change, that it feels like half a year has gone by since then.
Our new house
Our new place is a stunning little house on two levels (plus basement). It has 3 bathrooms, 4 bedrooms, and a good sized area that we've utlized as a craft room for my wife's scrapbooking and vintage addiction. Decorating the house the way we like wasn't cheap, but people can't stop complimenting us on how nice and classy it looks, so evidently that was money well spent. Suffice it to say, it was a fun and crazy shopping spree. I've never spent so much money in so little time. Thankfully that has come to a halt now, as we have all our bases covered. 😉
I even acquired one hell of a BBQ which has seven burners in total and can cook up to 37 burgers (or something like that) at the same time. I'm quickly becoming a master of outdoor cooking — and I've never felt so North American before. 😛
The actual renovation (which came before we arrived and started decorating and adding fancy furniture) was done by my father-in-law's renovation company, who did an amazing job. The place looked brand new the second we arrived. I'll try to take some pictures soon and post them here for you to see.
What really strikes me as being different is that our new home is located in a cul de sac near a creek and therefore is much quieter than the 23rd floor apartment directly above the busiest highway in Canada where we used to live in back in Toronto. In fact, all I can hear right now is the sound of the water babbling a mere 200 feet or so away. Very zen-like, I tell you.
My office is smaller than it was at our old house, but I love it nevertheless. Living in such a quiet environment enables me to better concentrate on work and other productivity tasks when I'm on the computer.
Penticton is beautiful
Penticton turned out to be bigger than I expected. Before coming to live here I'd thought of it as a small town, but it's really more of a small city. There are very few things that it lacks and I love that any destination is just five minutes away. Even for things not available locally (e.g., the upcoming arrival of Target in Canada), there is a larger nearby city (Kelowna) located less than an hour away which usually gets you covered.
This town is stunning. It's located between two lakes and it has an amazing mountain backdrop. It's hard not to fall in love with this place and I can see why it's one of the number one destinations in which wealthy people choose to retire in Canada.
In my experience people are very friendly around here as well, much more so than in Toronto. This can likely be attributed to the fact that Penticton is a much smaller city. It's nice to see a more upbeat and relaxed approach to life by the locals, as this outlook helps puts one in a good mood.
As one might assume, it's a much less multicultural area as well, so people may find my Italian accent to be somewhat of a novelty, and they may be more prone to ask about my background, how I ended up here, etc, and to show a genuine interest in talking to me.
I'm truly enjoying this little city, and I absolutely love and cherish being so close to my parents-in-law. They are kind, wonderful people who care about my wife and me, and I genuinely love to spend time with them.
B.C. driver license acquired
I got my B.C.'s drivers license and can now drive on my own. It turned out that my Ontario's learner license (G1) was not transferable to British Columbia. So I had to restart the process from scratch and retake the theory test. I did it on the spot upon learning about this setback, without studying, as I was pretty confident that it wouldn't be too different from what I learned in Ontario. I'm happy to say that such was the case and I passed on my first try.
As a result I immediately regained my status as learner and was able to amply practice driving with my in-laws and their cars for a couple of weeks. Thankfully, I didn't have to wait for a full year before being able to take the actual driving test, as they were able to credit the time I spent practicing as a learner in Ontario towards my B.C. license. I took the driving test in mid-March and passed on my first try as well. Now I'm an N driver, which carries a few limitations, but essentially allows me to drive on my own everywhere I wish.
The B.C.'s driving test is definitely more challenging than the Ontario one because it tends to last much longer (30-60 minutes, at least here in the Okanagan.) The streets are less busy, but they also have more oneways, school zones, roundabouts, and other occasions to fail as an inexperienced driver. I'm glad I beat the incredibly high rate of first timers who fail at this examination center.
Another difference is how afforable insurance is in BC. In Ontario it would have cost me several hundred dollars a month for a basic package. Here I only pay less than $250 and get full coverage, including vandalism, theft, etc. This was a pleasant surprise which enabled me to consider the purchase of a nicer car than I expected.
My new car
Truth be told I had a major incentive to get my driver license right away. Sitting in my driveway was my new car — a nice Jaguar S-Type. About a week before, when I was still a learner, I went to North Vancouver to purchase the car and drove it all the way back to Penticton (250+ miles) with my in-laws.
What an amazing experience it was to suddenly be driving surrounded by mountains, lakes, and nature in general. I was afraid of crashing the car before even getting it home, but thankfully nothing bad happened.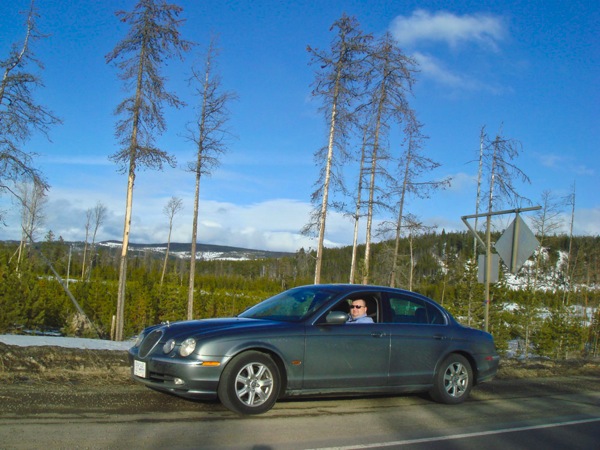 My father-in-law, who was a mechanic for ages, could not believe how new the car was under the hood. He told me point blank, "If you are not buying it, I am. This is a steal." With only 40,000 miles on it and being the third luxury vehicle of an elderly gentleman (single owner), the car is virtually new inside and out and I can't believe my luck in having scored such a wonderful car. How many people who don't have wealthy parents can claim that their first car was a Jaguar? 🙂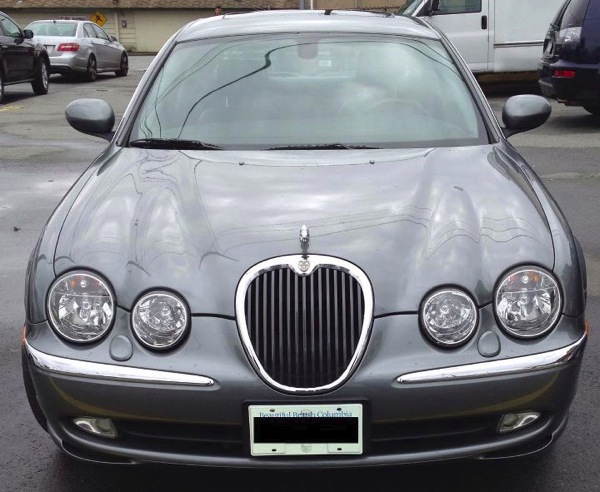 Jokes aside, I love how comfortable and smooth the car is. I can really tell the difference when I'm driving someone else's non-luxury car. Even newish cars feel bumpy and uncomfortable by comparison. The heated leather seats are even more comfortable than my couch or office chair.
Diet on hold
The bad news is that I've put my diet on hold during this period. I shouldn't have, but I did for convenience sake. We spent several weeks at my in-laws, while our new house was being prepared and as we were waiting for our belongings to arrive from Ontario. Having to measure grams and calories (well, Weight Watchers points) for everything when you are staying at someone else's house and eating out frequently, was a bit too much.
I decided to give myself a break from the diet to make these two months be a little easier, as they were exciting and stressful enough without having to worry about diet, weight, etc. Despite being much more active, I have gained back a little bit of weight as a result of being more lax with my diet.
But I'm not going to bullshit you. It's still an excuse. I could very well have decided to stick to the WW plan. Thankfully, not all is lost. I'll be back on the horse in a matter a days (I'm restarting my diet in May).
Getting back into photography
Now that I've a car for the first time in my life (growing up, my parents didn't have one either), I'm discovering how many opportunities it opens up. I still catch myself thinking, "Oh I can't do that, you'd need a car… Oh, right, I have one." Photography has always been my main non-work-related hobby. I love it so much that I've even considered making it my profession at various times throughout my life.
I discovered that having a car changed my perspective on photography. In an old article I mentioned how I bought a compact camera because carrying around the DSLR and lenses was such a hassle. Imagine taking the bus and having to carry a heavy backpack laden with expensive photography equipment with you. Not having a car definitely affected the amount of use I got out of my pro-level equipment.
Now that I have a car, taking my camera and lenses with me when I'm out and about is a no brainer. I've also found that the Lowepro backpack I use works beautifully as a bag when opened up in the trunk of the car. Before I felt it was useless for my needs.
Practicality of carrying the equipment aside, the car allows me to scout better locations (for portraits), and enables me to photograph a greater variety of interesting subjects and locations.
My burning passion for photography, which never waned, really wants to take advantage of my new found mobility and freedom. I also tend to wake up quite early in the morning as I tend to start working at 9am EST (which is 6am here in B.C.), so my work day is generally over by 2 or 3 pm, which leaves me with plenty of time to go out and shoot. Of course, the downside is that I can't go to sleep at 3am like I used to. But all in all, I feel that this new arrangement works well.
I'm including three pictures here which I've recently taken sine getting back into photography. They are respectively my beautiful wife Jessica, my beautiful mother-in-law Lynn, and the location spot near Skaha beach at the Okanagan Falls where I took Lynn's portrait.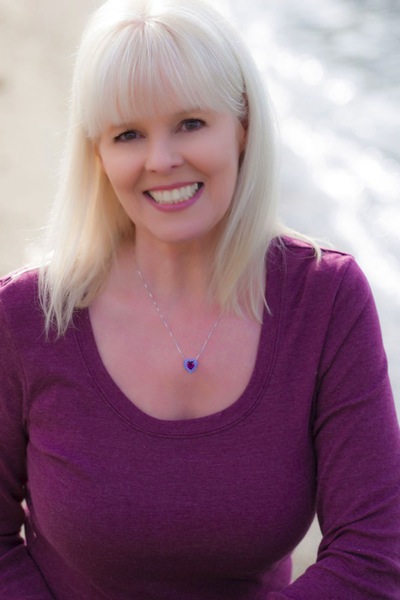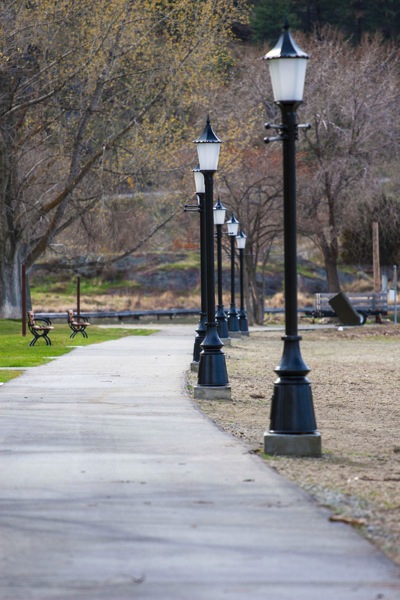 Equipment wise I'm still pretty good, even though my 30D is starting to be a bit old at this point. I bought it 6 years ago and it has only 8.2 megapixels, not a great number if you need to crop and make big prints like I do (megapixels are not so important per se, but the camera has other shortcomings as well). So I've been eyeing the Canon EOS 5D Mark III like crazy lately. With all the expenses we've been dealing with recently however, I'll probably hold off for a few months before acquiring it. But it's definitely on my wish list.
I'm also happy to have found a solid color management workflow thanks to the recent purchase of a Spyder4 Pro and a ColorChecker Passport. The first one calibrates your monitor, while the second one effectively helps you calibrate your camera so that the RAW images have a custom profile applied to them which makes the recorded colors as close to the real colors as possible. It's micro-optimization stuff for sure, but as an engineer I like this kind of exact geekery. I should blog about this type of stuff soon as I'm sure others are considering these kinds of tools and wonder if they're worth it.
OK, this is enough of a narcissistic fix for now. I don't usually talk so much about myself, the things I own, etc, but they've been such large changes in my life lately that I felt they were worth sharing.
[/et_pb_text][/et_pb_column][/et_pb_row][/et_pb_section]