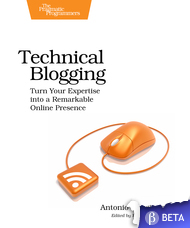 Those who follow my Twitter stream will probably know this already, but lately I've been pretty busy allocating most of my spare time to writing a new book for The Pragmatic Bookshelf.
It's not finished yet, but today it's finally available in beta. This means that you can buy and read it now that it's almost finished. You'll receive updated versions as the new chapters and corrections roll out.
Reaching this stage has involved a lot of hard work, but I'm very happy about the (quasi-)final results.
If you are interested in blogging to further your career, promote your business, or simply earn a side income, be sure to check out my book and let me know what you think.