Ever since I was a little boy, photography has been one of my main hobbies and interests. My collection of cameras, both film and digital SLR, is pretty decent. I also own some good quality lenses that span the broad range from 12mm all the way to 300mm. Wide-angle lens, check. Walk around f/2.8 zoom, check. Portrait f/1.8 lens, check. Macro lens, check. Canon L series zoom, check. You get the gist. 🙂
The trouble with SLR cameras
Despite my SLR kit, over the course of the past few years, I really haven't taken many pictures. Lately as well, I've been reflecting on the fact that I have relatively few photos of my wife and I together over the course of our lovely, happy six year marriage. I realized that no matter how good one's equipment is, you can't take the shot unless your camera is actually with you. And the truth is that between the monetary value of the equipment I possess and its bulk/weight, I only take my DSLR out of the house when I'm on an occasional photographic mission (aka, outdoor shooting session).
The value of the image quality provided by a DSLR with good glass is not lost on me. But owning such great equipment has paradoxically led me to take fewer and fewer pictures over time, thus I end up missing out on the opportunity to spontaneously document life as it occurs. For this reason, I decided that it was high time for me to buy a compact camera that I'd be able to have on me all the time when I'm out and about.
Experience has taught me that I will gladly trade the flexibility, speed, large sensor size, and image quality of an interchangeable lens system for the portability of a high-end compact digicam that can hang out in my coat pocket at all times. I will definitely still use my DSRL kit for situations when a photographic shooting session has been planned (if I'm taking pictures of a friend who volunteers as a model, etc…) or when it's convenient to do so (such as when I'm shooting at home).
I did a lot of research on the topic of compact digital cameras so as to update my knowledge on the latest models that are available on the market, and as such I thought I'd share some of what I've learned with my readers in this post. I really hope that the info provided here will be of help to you if you're also contemplating getting a compact digital camera for yourself or a loved one.
Requirements
My main concerns when selecting a camera were common ones: portability and price. I don't want to carry a $700-1000 camera on me most of the time, nor was I interested in an SLR-like super zoom (sometime called ZLR) that would hardly fit in my pocket. For the most part this ruled out great μ4/3 cameras, which are a compromise between a compact camera and a DSLR.
I find such systems (like the Sony Alpha NEX-3) to be outstanding, and think that their popularity will continue to skyrocket as more people start realizing that SLRs are fun but not always very convenient to actually tote around with you. Though I was tempted by this type of camera, in the end it was outside of my comfort zone both in terms of size (it's a tad too bulky for my intended purpose) and being able to fit into my budget.
As such I shifted my attention to relatively compact pro-digital cameras. Image quality and flexibility (in compact camera form) were my main concerns. In particular, I was looking for the following features:
High-quality, fast optics: I wanted a camera with rapid autofocus and the ability to handle a variety of photographic scenarios, including low light situations.
Image Stabilizer (IS): Lens-based image stabilizers can really help achieve sharp images at lower shutter speeds. As I may not always have a tripod with me this point is important.
Larger sensor than the average compact camera: Generally speaking this leads to better images and less noise due to the lower pixel density on the sensor (assuming the same megapixel count is applicable).
Good usable ISO range: Photography means painting with light; a camera with a usable 800 ISO may make the difference between getting a shot in low light and missing out on capturing it completely.
Full manual control: Sometimes the camera knows best, other times I need to be in control of all the parameters that define the exposure.
Support for RAW files: JPEGs are fine for most shots, but RAW files afford me post-processing flexibility when I need to save a photo or really make one shine.
An excellent wide-angle: Unless you are spying on your neighbors or attempting wildlife photography with a compact camera, you'll find that a good wide-angle range is often far more important than having an extreme zoom. Given the choice, I would happily trade 100mm on the telephoto side for 10mm gained on the wide-angle side of the range.
Good macro support: Most compact cameras do a good job in this regard already, but I was definitely looking for a camera that would include this handy feature.
Support for HD video: Let's not kid ourselves here. I'm not going to shoot Avatar with a pocket camera. It would be nice however to be able to shoot the occasional movie clip and do so in HD format with decent results.
No more than $400: This was the budget I set for my new camera.
Note: I don't care about marketing gimmicks like total megapixels (anything above 8 megapixels is plenty if you need to print enlargements).
Top cameras
Based on the criteria above, I shortlisted the following enthusiast/premium/prosumer/pro (10Mpx) digicams. In truth, these are some of the best cameras on the market, regardless of price.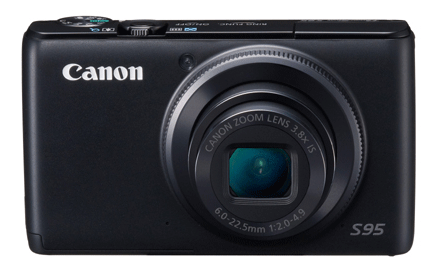 This camera stands out for being extremely compact (it's so compact that it fits into a shirt pocket). It has a 1/1.7″ CCD sensor and can shoot 720p @ 24 fps movies with stereo sound. The embedded lens is a bright, fast IS 28-105mm (in 35mm terms), f/2.0-4.9. It supports RAW files, has a good ISO range (80-3200, which is very usable up to 800), and its JPEG processing is fantastic. On the downside, it lacks a viewfinder or the hotshoe for an external flash (however Canon provides the option to use the camera to trigger a wireless flash that's sold separately).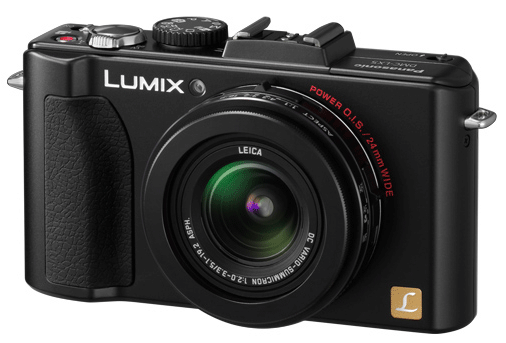 The LX5 is larger than the S95, though it still remains comfortably pocket-sized (especially if we are talking about a jacket pocket). It has a slightly larger sensor (1/1.63″ CCD), which is unique because it allows for four types of aspect ratios that can be switched by moving a dial on top of the lens (4:3, 3:2, 16:9, and 1:1, respectively). Different pixels are actually "exposed" depending on the aspect ratio, so this isn't just a gimmick that's equivalent to doing cropping via image editing software.
This camera has a fast IS Leica lens and comes in at 24-90mm, f/2.0-3.3. The telephoto end is shorter than the S95, but it provides a much better wide-angle and a brighter lens (f/3.3 at 90mm). The ISO goes from 80 to 12800 (it's extremely good up to 800). This camera can record very good quality movies at 1280 x 720 pixels @ 30fps, allowing you to customize the exposure much like you can for a photo (you can also zoom during recording). As well this model has a dedicated button that allows you start recording video immediately (note that the audio quality is reported to be less stellar than that of the s95).
Unlike the s95 however, the LX5 has a hotshoe and an external flash (which can be purchased separately), as well as an optional viewfinder (optical or digital). The JPEG processing is arguably not as good as that of the S95, but processing RAW files with the LX5 leads to great images. Lastly, the battery lasts longer than the S95 with an average of 400 shots per battery charge (versus 200 shots for the S95).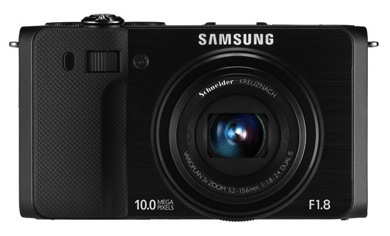 The EX1 is the bulkiest of the group, at almost double the weight (356g) of the S95 (193g). It still fits into a coat pocket – but we are stretching the definition of "compact" a little bit. However, it has the fastest lens of any compact camera (with a stunning image stabilized 24-72mm f/1.8-2.4). The sensor is the same size of that on the S95 (1/1.7″ Type CCD), with an ISO sensitivity of 80-3200 (like the previous two cameras, this model shines up until an ISO of 800).
The EX1 lacks HD video (480p @ 30 fps) and its RAW files don't appear to be currently supported by Mac OS X programs. People have also reported issues with the built-in metering system (which appears to be a bit inconsistent). On the plus size it's excellently built, with good manual controls and a decent battery life (250 shots).
Though it's admittedly out of its league in terms of this shortlist, I wanted to mention the Panasonic Lumix DMC-ZS7 as well. It's more of a "travel zoom" than a prosumer camera, but the presence of a large, relatively fast zoom, GPS, and its significantly lower price point (it's currently on sale for $239) made me give this camera some thought.
As well, I didn't include overviews of the Nikon Coolpix P7000 or Canon G12 here because they're both slightly out of budget and are far too bulky for my intended purpose (despite remaining excellent choices if you're fine with a slightly larger compact camera).
My final choice
Overall the three cameras above all produce excellent images given their compact size. You really can't go wrong with any of these powerhouses. I personally decided that in the end, I wouldn't be happy without HD video and as such decided to give up on the idea of purchasing the Samsung model. That left me with the choice of picking between the S95 and the LX5, which was anything but an easy task! I love the super compact nature of the S95, its JPEG processing, and manual focus ring. However, the LX5 arguably had the edge on a feature-by-feature basis, so in the end I went with the Panasonic Lumix DMC-LX5 (on sale for $399) over the S95, and am now sincerely looking forward to using this terrific compact digicam.
Disclaimer: Please note that the links to Amazon contain my referral id. Clicking on them won't cost you a cent and you can think of doing so as a way of tipping me for writing this article if you buy something as a result of it.